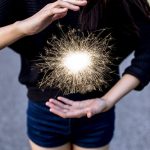 Today's guest post is by Chrys Fey.
Artists are naturally afraid that their well of ideas will dry up and they won't ever get another good idea. All you need is a spark. The good news is a spark can be anything and found anywhere.
I started writing when I was a little girl, after I found a rusted screw with a crooked tip hidden in the grass. At first I had hoped it was a key to a secret place, as I was very much enamored with the idea of having my very own secret garden.
Funny enough, I wasn't disappointed when I noticed I held a screw, not a key. Instead, the gears in my mind started to spin, and I wondered: What if this screw is a just screw in my world but a key in another world? What if it's the key to another world? I started to imagine what that world would be like. And just like that, I had a story idea.
But what if you wrote your one good story idea already, and you've been anxiously waiting for another one to arrive? Now you fear you won't ever get another decent idea. Continue Reading…