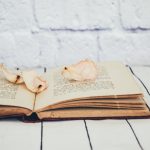 Today's guest post is by Ethan Miller.
When does one call oneself a writer?
Some might say the title of writer should be reserved only to those who have their names printed on the cover of a book. Some others might consider themselves writers when they write something of great importance—something that they are proud of.
If you ask me, anyone who spends hours honing their writing skills through routine practice is a writer. Anyone who looks for ways to constantly improve their writing prowess deserves to be respected as a writer.
While I do not have my name printed on the spine of a book yet, I practice writing routinely and perpetually look for ways to become a better writer.
I found that reading literature written by renowned authors and playwrights is one such way to develop my craft as a writer. Reading classics can help you break the shackles of traditional story beats and inspire you to make brave choices as a writer. The voracious reader in me leapt with joy when I discovered that immersive reading can enhance my writing skills. Continue Reading…