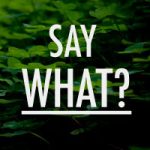 Okay, this is going to be a short but concise post here. Repeat after me: "The whole comprises the parts . . . the whole comprises the parts."
Writers always mess up with comprise. The word does not mean compose. You cannot say "it is comprised of." Sorry, can't. A house comprises six rooms. My novel comprises eighteen chapters. This blog comprises fifty-two entries for the year. Okay, some say the word has evolved and now it's acceptable to use comprise to mean "compose," but as Merriam-Webster says: "You may be subject to critcism if you do so." Heaven forbid someone criticizes your misuse of comprise!
Now, my bicycle is composed of various metals like aluminum and steel. Or I could say my cheesecake is made up of ten different ingredients. This may sound odd to your ear, but this is the correct way to use comprise. Comprende?