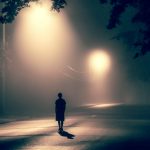 Writing novels can take us on a heavy emotional journey, depending on what we're writing about and why. Certainly memoirs do too. While no one holds a gun to our heads (one hopes!) to force us into writing about painful things, sometimes our souls subtly prompt us in order for healing to take place.
These are some of my thoughts that I had when writing my novel Conundrum, which forced me to delve deeply into personal trauma. I hadn't wanted to write this novel, but I had a dream. Two actually.
You may pooh-pooh such "spiritual" or divine events, but if you've ever had one, you'll agree it's hard to discount them. These "visions" seem ultra-real. And these dreams were not just vivid—they gave me the title, themes, characters, storyline, and first chapter of my novel. I felt a strong compulsion and need to write the novel, even though I didn't want to.
As I stared down the imposing novel I was attempting to write, Conundrum, I wielded my vorpal sword in hand. Snicker-snack it went, one two!…oh wait, that's used to fight the Jabberwock, my son … "Jabberwocky" and many other poems found their home in my new novel, an unravelling mystery based upon the bizarre tailings of my father's death in 1961. Usually I have no problem plowing through my index cards of scenes, progressing steadily to the finish. But this work was an unruly child, full of deceit and intent on pain. Continue Reading…