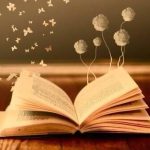 Today's guest post is by Dan Vale.
My family lived in Germany for five years, and when we first got there, we went to a German restaurant. We soon learned that we had a lot to learn. When my twelve-year-old son asked a German waitress where the bathrooms were, she gave him a cookie.
In spite of the difficulty of learning a foreign language, I am in awe of foreigners who are able to learn our difficult English language. Still, the complex and convoluted nature of our language is addicting and wonderful.
That is why we writers have become addicted to the English language. Isaac Asimov once said, "If my doctor told me I had only six months to live, I wouldn't brood. I'd just type faster."
Although we are enthralled by words, we know that reading too many poorly chosen words to describe something is like eating too much of a mediocre meal. The US government regulations on the sale of cabbage, for example, consist of 26,911 words. The Gettysburg Address, however, consists of only 286 words. Thomas Jefferson appropriately said, "The most valuable of all talents is that of never using two words when one will do." Continue Reading…