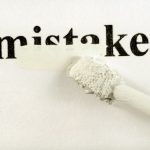 Today's guest post is by Dave Chesson.
There's a lot to know when starting out in the self-publishing business. I cringe when looking back at some of the rookie mistakes I made when I was publishing my first books. But, then, you won't master self-publishing without putting in the work to get there.
Don't get me wrong—mistakes are a part of the journey, and they're okay to make. But, hey, if you can get advice and save the hassle, that's a good thing too.
In this post, we'll explore a few errors to avoid when publishing your first book.
Not Reading in Your Genre
While it's tempting to find untapped niches and write books to match, it's a huge mistake to write books in genres you don't know a lot about. Sure, as an author, it pays to read a wide range of books; but to be successful, you should read plenty of books in your chosen genre.
It is important to keep in mind that you're not writing for yourself or for your career; you're writing for an audience. You may not be well read in your genre, but your audience will be. They'll be purchasing your book based on the fact it's a "Western" or a "sci-fi" novel and will have expectations to match that genre. You need to understand what those readers are looking for when they buy a book—otherwise, expect some not-so-great reviews.  Continue Reading…