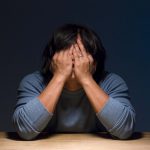 Today's guest post is by David Villalva:
Hair was never a good look for me.
Photographic evidence recently surfaced when I showed my kids a high school yearbook image. My daughter giggled as my son proclaimed, "Maybe you do look better bald." While that may be true, I still went into shock when I began losing my hair at nineteen years old.
Hair loss was not part of the plan. So I obsessed about how it would impact my life. Work? Goals? Relationships? I mean, I was never a ladies' man but . . . 
I decided to take action.
First, I planned to save hairs by shampooing less often. And no more styling gel. Then I grew it out to look thicker. Next, I wore a hat to conceal it.
I eventually asked my parents for Rogaine as a birthday gift (because I was too self-conscious to buy it myself). Once I received the gift, its packaging claimed to strictly help the bald spot on heads. Wait, I was losing it everywhere!
Boo genetics. Continue Reading…