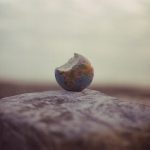 I started thinking about universality since we want our novel's theme to have universal appeal—meaning a whole bunch of people all over the world should be able to relate to it at perhaps any time in history. But while we're thinking in broad, all-encompassing ideas, I want to make a distinction here.
Don't make the mistake in thinking that in order to appeal to a wide audience with a universal appeal we have to write in very general terms and details. You may think that the more unspecific you can get with your locale, setting, time period, problems presented, the more universal the novel will be.
You may think if your character can have a general problem—say a bad temper or he's a Scrooge—a lot of people will identify with him . . . so you decide to not be too specific and take the risk of making your novel's world so small that no one will relate.