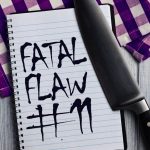 This month our editors are taking a hard look at pesky adverbs and "weasel words"—our Fatal Flaw #11. Even a story with a great plot and engaging characters can suffer reader ennui due to the overuse of these words. No matter how long your novel, every word should be chosen with care. Words have weight, and all those extraneous words can sink your story. Editor Rachel Starr Thomson kicks off our look at this flaw with a discussion of dialog tags and narrative beats.
Our focus this month is on words: specifically, adverbs, superfluous verbiage, tics, and "weasel words." Overuse of such words constitutes our Fatal Flaw #11, a pox on many writers' prose.
Before I jump into my own topic on this flaw, a few words about said.
Said, when used with a pronoun, creates what's known as a dialog (or speaker) tag: it's a phrase that tells us who's speaking. He said, she said, they said, he called, she cried, he replied, and all the rest. Continue Reading…