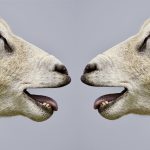 Writing great dialogue is probably the hardest skill fiction writers need to acquire.
If you've tried your hand at it, you know it's tricky because dialogue in fiction is not at all like real-life dialogue. Which seems counterintuitive because fiction often is meant to present "real life" in a realistic fashion.
However, ordinary dialogue is usually boring and wordy. Or vague. Or all over the place.
Fiction writers need to write strategically and purposefully, every line, whether it be narrative, action, or dialogue.
So what are some tips to writing masterful dialogue?
I've compiled what I feel are the most important and succinct aspects of masterful dialogue in fiction, and if you struggle with writing snappy, engaging, believable, and fresh dialogue, these tips are for you. Continue Reading…