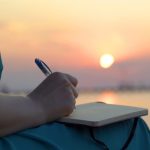 Today's guest post is by Diana Stevan.
Writing can be therapeutic when strong emotions trouble our mind. We can't sleep, we can't think straight, and we can't get on with the joys of life.
I was a therapist for twenty-five years, guiding individuals, couples, and families and helping them deal with the pain that brought them into my office.
I've seen my share of personal problems: mental illness, addictions, post-traumatic stress, domestic and sexual abuse, family and marital breakdown. I know that being normal means carrying both good and ugly feelings inside.
We humans have a lot to contend with during our life's journey. Each one is unique. And sometimes there's nowhere to turn and no one to hear our story. And that's where writing comes in. Continue Reading…