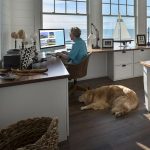 Today's guest post is by architect Donald M. Rattner.
As an architect who studies the psychology of creative space, and the author of a recently published book on the subject, I'm often asked by my fellow scriveners what the most common mistake writers make in fitting out their physical workspace.
Easy, I reply. They're looking the wrong way.
Looking the wrong way? It sounds like what happens to a North American who travels to the UK and forgets that the traffic moves in opposite directions when stepping out into the street.
No, what I'm referring to isn't about failing to adjust for unaccustomed traffic patterns. It has to do with how we humans have been genetically encoded to orient themselves to our environment, and how we remain guided by that code even though the conditions that prompted this bit of bioengineering have long disappeared.
To understand what I'm getting it, we'll need to travel back in time about 190,000 years, to when the first Homo sapiens emerged on the African savanna. Continue Reading…