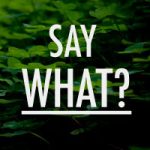 Sometimes people are confused about when to use each other and one another. Well, there's a good reason for the confusion. Even the people who make up the rules—the grammarians—don't agree on this one.
So let's start with the things they do agree on:
Each other and one another are pronouns (used in place of nouns). They are reciprocal pronouns. That means that both individuals experience the same thing; it's a mutual relationship.
Bill and Sue love each other.
Unfortunately, their parents couldn't stand each other.
Both the affection and the dislike go both ways. Use each other when talking about two people. Continue Reading…