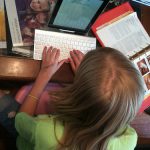 Today's guest post is by blogger Emily Johnson:
Proficient writers would agree that writing is not only a way to earn money but a lifestyle. We are ready to dedicate our lives to this process and work hard to improve our writing skills. We know that writing high-quality content is a must for us, so we do our best.
But what does impact our creativity, productivity, and concentration? Believe it or not, it is our workplace. And more often than not, we don't pay attention to its organization.
Carefully planned home workplace organization can motivate you to write better and faster. So let's take a look at a step-by-step guide that might help you organize your home workplace. Continue Reading…