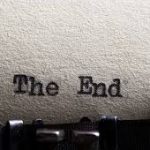 For this week's Throwback Thursday, we're looking at excerpts from past posts on Live Write Thrive that tie in with our exploration on scene structure. Last week's Throwback took a look at scene endings, so this week we're looking at novel endings.
From The Not-So-Long Good-bye:
Writers tend to get a bit tired, burned out, and sometimes even a little sick of the story they've been crafting for months (years?) by the time they see the home stretch and often they push through or rush to wrap it all up so they can figure out where they left their life, kids, and keys that seem to have gone AWOL while they were hunched over their computer. But the ending scenes carry the next biggest burden in your novel, and so if you're feeling the urge to hurry up and get the $%&*@ book done, or if you've already written an ending but it feels flat and ineffective, I'm hoping some of the suggestions I propose will be of help to you.
I recently heard the expression "Get in quickly and out quickly." I hadn't heard that before, and it came from a critique partner who felt my fairly short wrap-up ending to my epic novel Intended for Harm was right on. I recognize the truth in those words, for you don't want to drag either the beginning or the ending of your novel. A "not-so-long good-bye" might just be a good thing. But it needs to be oh-so-right, short or not.
Oh Great—Another Burden
So, just as you have to cram in so many elements in a few short pages in the opening of your story, you also have to accomplish a number of big things in your last few pages. Continue Reading…