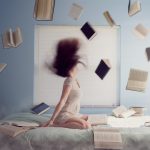 Today's guest post is by Erick Mertz.
One of the things writers commonly ask me is, how do I create more compelling scenes? How do accomplish the elusive gold standard of "show but don't tell"?
If you have written for any amount of time, you've probably been given feedback along those lines. For any number of reasons, the story feels weak. The prose is filled with soft spots. Maybe the characters come off as flat. Somewhere between inspiration and execution, the story lost some necessary life.
Writers receive these types of comments for any number of reasons. Sometimes it is because of a lack of clarity in a scene or the need for vivid color in a particular description. Other times it is a matter of repetition. One section of a manuscript too closely resembles another, or else it outright mimics it. But, in my experience, one reason tends to rise above the others: a lack of conflict.
Focusing your writing on a series of strongly rooted conflicts is the best way to elevate your storytelling. In bigger terms, these would be defined as the archetypal clashes of person versus person, person versus self, or person versus machine, just to name a few. When characters are at odds with something or someone, the stakes in the story naturally ramp up, and the quality of prose follows. Continue Reading…