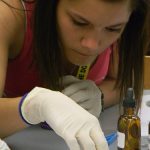 We're starting a fun series covering a number of weeks featuring guest posts from professionals who work in medical, police investigation, and legal arenas in order to help writers get "real" in their fiction. Take a peek inside their worlds and ask questions!
Today's guest post is from Garry Rodgers, who spent years working as a homicide investigator and fornesics coroner and has a lot of great advice for writers who plan to write about crime scenes.
I've been around the criminal investigation world for three decades—first as a homicide detective, then as a forensic coroner. I was also the trigger-man on Emergency Response or SWAT Teams and now, in "retirement," I'm reinventing myself as a crime fiction writer. So I've got hands-on experience in life, death, and writing.
I'm also a voracious reader. Not just technical, forensic, and legal stuff but lots of crime fiction. I'm fortunate for on-the-street and in-the-morgue background to draw from, though it's a curse when I read stuff that I know is improbable or just plain baloney. Continue Reading…