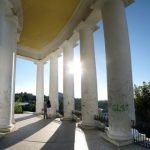 When I think about the many novels I've written, I realize I don't always start with a plot idea. Sometimes a topic or theme intrigues me, or I'll have an image of a character in the throes of a moral dilemma.
I remember reading about how C. S. Lewis came up with his Narnia series. He had a picture in his mind of a faun carrying a parcel and an umbrella through a snowy wood. From there, the The Lion, The Witch, and the Wardrobe sprang into existence.
The novel I'm currently writing, a supernatural thriller called Lightning Man, also was sparked by a picture in my head. I saw a man at the top of a mountain, his arms outstretched in a kind of messianic surrender to the heavens, willing lightning to strike him for the tenth time, intending to stop a terrorist by sacrificing his life as he grips the bad guy. From there I had to ask a lot of questions to find my story, and I encourage you to do the same with the ideas that excite you.
I wove a complex plot around that character and climactic moment I saw in my head (it's taken me a couple of years, but it's all in place now). But it all started with a picture of a nebulous character.
For my novel Someone to Blame, I started with a word or concept: blame. I wanted to explore the ways people blame themselves and others and the damage and hurt blame causes. From that germ of an idea, a plot developed—a story about a family who've suffered the loss of two sons and moved to a new town hoping to start over, only to get drawn into a heavy drama that mires the town in blame and subsequent danger.
In my conversations with numerous best-selling authors, I've learned that their story ideas are sparked in a myriad of ways.
Though ideas for stories begin in different ways, all roads lead to one key question: Who is this story about and what is that character's journey? Continue Reading…