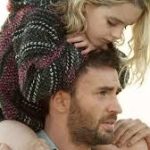 Today I want to talk about a one-eyed orange tabby cat named Fred. Some of you are saying, "Oh, yeah, I LOVE Fred!" And others are saying, "Uh . . . Fred who?"
Why should I spend time blogging about Fred? Is he some famous kitty? A character in great literature? No, quiet (well, he does meow) Fred is just a cat who has a role in the terrific movie Gifted.
But not just any role. Some might argue that Fred is a secondary character in the story, and while that may be true, he is actually a carefully crafted plot device for the story. And that's why I'm bringing him up in this post.
While he rightly is a participant in what could be labeled accurately as a literal and iconic "pet the cat" (or "save the cat") moment, he has a much more important part to play in Gifted. Continue Reading…