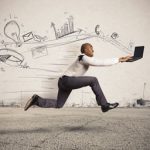 Today's guest post is by Gila Green.
When I tell people I teach a virtual flash fiction course, I sometimes get strange responses, even laughter. Isn't flash fiction just really short fiction? What's the point of taking a specific flash class?
No, flash is its own genre deserving of its own class, and it's still underrated as a way to break into publication.
I say "still" because I taught this in my classes from the time I began teaching flash fiction in 2009. Yes, a decade ago I encouraged writers to stop poring over articles about writer's block and use the time when their novel or short story collections weren't moving forward to write publishable flash fiction.
There are many reasons for this, but I'll name a few. Continue Reading…