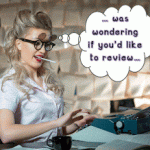 Today's guest post is by top Amazon reviewer Gisela Hausmann. This content originally ran on the Huffington Post, and it is reprinted here with her permission.
The day before yesterday, I received an email asking me to review an indie author's book. Somewhat ironically, this request email stated, "As you liked (title of book), you might also love my newest book, (title), because it's in the same category as the book you already reviewed . . ."
I remembered the book I supposedly "liked." I didn't like it at all; I had awarded it with a negative review.
Obviously, this indie author made a mistake; most likely, because he rushed trying to find as many top reviewers as possible to whom he could offer his book "in return for an objective and unbiased review." Continue Reading…