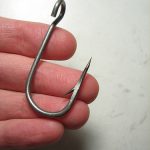 We toss around the word hook when we talk about stories. What's the hook? we ask. Sometimes we're talking about the overall premise: what component to the story idea is unique, compelling, intriguing. Othertimes we're talking about the first few lines of a novel (or first line) that is to be crafted in a way to grab readers and make them want to read more.
But that's not all the hooks we need. We're on the hook for coming up with great openings for every scene we write. Sure, novels don't have a killer first-line hook for every scene, but we certainly want to open each scene strong.
That usually means ditching explanation and backstory and dull description of place and weather. Instead, a more effective way to hook readers into a scene is to consider these things:
The tone or mood you need to set that implies the POV character's state of mind and emotion.
The situation you can insert your character into that is already underway in an interesting manner (in other words, don't start scenes with your character waking up, then brushing his teeth, then getting dressed, for example).
Some element of mystery or microtension that creates curiosity.
Sure, a catchy first line or paragraph is helpful to hook readers, but you can't always be that snappy with every scene opening, nor would it be a good idea. Continue Reading…