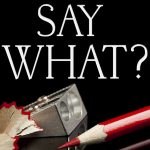 It's fine if you've hung a picture or a sweater on a hook. But if you sent a man to the gallows, that person wasn't hung. He was hanged.
You can have a hung jury: a jury unable to reach a verdict. They are "hung up" on a decision.
You hang up on someone, and you can get hung up on a project.
But criminals found guilty of capital offenses are hanged (in some places in the world). We all know what that entails. Yet even though we say "his wife hanged herself," not every instance of being suspended in air with a rope around the neck is a "hanging." Continue Reading…