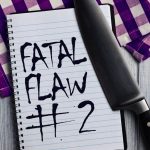 This month our editors are tackling Fatal Flaw #2: Nothin' Happenin'. Editor Robin Patchen encourages writers to think about a scene's purpose in order to determine what information is important to share and where to place that in an active scene playing out in real time. (If you've missed the other three posts on this fatal flaw, read them here, here, and here.)
We have to be clear. It's very important that our readers understand exactly what's going on at every moment in our story. So we must tell the reader everything that ever happened that led to this scene, whatever it is. That's the only way the reader will get it, right?
Not exactly.
It's not that your reader doesn't care about that stuff. Oh, wait. Yes, that's exactly what it is. Unless it affects the story, your reader doesn't care. Not one bit.
Your scenes should begin when the action begins. That's a tough thing to determine, though. I'm acting right now by typing these words on the page, and I promise you, there isn't a soul alive who wants a play-by-play of my typos. So how do you know when the scene should begin? Continue Reading…