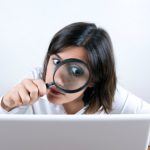 For this week's Throwback Thursday, we're looking at an excerpt from a previous post titled  Fact or Fiction? How Novelists Can Blend Factual Research with Creative Storytelling  by author Jack Woodville London.
Readers who have some passing knowledge of literature might be startled when in reading The Three Musketeers they encounter a passage in which D'Artagnan refers to Gulliver's Travels. The dilemma is that The Three Musketeers is set more than a hundred years before Jonathan Swift wrote about Gulliver. Alexandre Dumas got it wrong.
On the other hand, no one came nearer to getting it right than Patrick O'Brian. His seafaring novels highlight practices of gammoning and warping the futtocks, details that tend to overshadow the writing that brought such terms our way.
The Three Musketeers is undeniably a classic; The Wine Dark Sea is the subject of much (unfair) criticism for burying a good story in unnecessary historical details. Continue Reading…