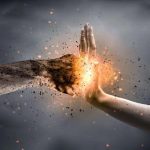 Today's guest post is by author Janice Hardy.
Internal conflicts and character arcs are so intertwined, many writers think they're the same thing—but they're not. The character arc just uses an internal conflict (as well as the external conflict) to bring about the character's change. A story can have internal conflict without a character arc and still be a strong story.
Internal conflicts are simply the emotional, ethical, or mental struggles a character faces while trying to decide what to do about an external problem (the goals that make up the plot). The challenge isn't a physical thing in the way but a struggle within the protagonist to make the right choice.
In essence, it's the mental and emotional debate the protagonist needs to have in order to resolve an external problem. Continue Reading…