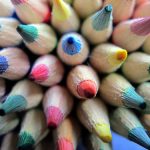 Today's guest post is by blogger Julie Ellis.
What does it take to become a writer? Do you earn the title of author the moment your writing is published or the moment somebody pays you for it? Of course not! You become a writer when writing becomes part of your daily routine.
You become a writer when you write as if it is a job and not simply an activity in which you indulge when inspiration and spare time make it convenient to do so. Unfortunately, transitioning from a person who writes to a writer isn't an easy task. If you are used to writing only when writing is easy, you're going to struggle to sit at your workstation each day and produce something. When your initial efforts aren't very good, and they won't be, you'll wonder why you bother.
This is when you'll really need to commit to writing each day. Eventually, you'll see your writing improve, and you'll no longer have to wait for inspiration to produce great content.
Are you interested in making the transition? Here are five tips that you can use on your journey. Continue Reading…