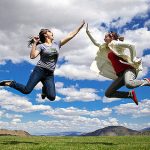 Today's guest post is by M. K. Rainey.
It's amazing to me how some writers can go their entire careers without ever having a solid community. In fact, I'd argue that's impossible.
Even the most Luddite and reclusive of authors have a community (obviously outside of social media), whether that's family, friends, or loyal fans—if they're lucky enough to be even somewhat successful.
Readers don't just plop into your lap once you write a book, short story, poem, or essay. To find readers, you have to start with some kind of community. Family and friends are the most obvious starting place, but what if writers could be more supportive and help create that initial platform to share one another's voices?
It's hard to do. We have social media communities, like this one, where folks come together to like, repost, and share work. But most of that communication has a lifespan of fifteen seconds before dropping into the endless, digital ocean in which we toil. Continue Reading…