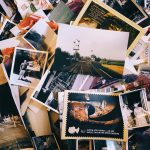 Today's guest post is by Kathleen Pooler. 
"It is the complicated, abiding pleasure, to paraphrase Ralph Waldo Emerson, of finding the universal thread that connects us to the rest of humanity, and, by doing so, turns our small, personal sorrows and individual tragedies into art," says Dani Shapiro from The New Yorker. 
Finding a compelling story amid the rubble of memories and events is one of the biggest challenge of a memoirist. But the work goes beyond just identifying and writing.
Excavating the emotional terrain is part of the work of sifting through memories so you can develop a compelling "slice of life" story with a takeaway. In memoir, these "slices of life" moments or defining moments make up a collection of scenes in your memoir.
In a COVID-19 era, many memoirists are finding it increasingly challenging to stay focused. Perhaps starting with that one memory that triggers emotions might be a good place to start. Continue Reading…