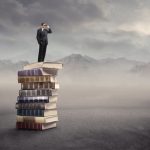 Today's guest post is by Dave Chesson.
I can remember the first time I self-published a book. I finished writing, spent hundreds of dollars getting it ready, and then hit Publish.
But . . . nothing happened.
Sales were dismal.
It turns out, there was no one on Amazon looking for my book, and my book-marketing skills weren't good enough at the time to find the market and bring people to it on Amazon.
I had just wasted hours and money putting together a book that no one wanted . . . or worse, knew they wanted.
Has this happened to you?  Continue Reading…