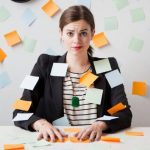 Today's post is by Kevin McNamara.
It's common knowledge that in our age we face an overwhelming amount of information every day—and while it's extremely stressful and distracting, it's holding us back from being productive. But don't worry, this tendency affects everyone in the world, including us writers (possibly with the exception of some Buddhist monks who can easily zone out when needed).
There are various books about boosting your working productivity and stress resistance—you should definitely give them a read, but this short list will save you some time until you do.
Hopefully, these tips can be of help to young and aspiring authors, as well as our experienced and established colleagues.
Look out for good advice
Evidently, many writers dismiss posts on boosting productivity by default. They tend to think of those posts as unoriginal and trivial, but even if the advice that you stumble upon does not seem all that original to you, it might be still useful to consider it. Continue Reading…