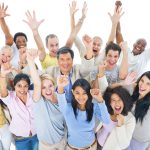 Today's guest post is by YA writer Kirsten McNeill.
So you've written your first book. You've created a beautiful story, and you connect with it as if it's your first child. You've published your book and posted about it all over social media. What next?
You're staring at the number of book sales, waiting, hoping, for them to rise. But they don't. Why aren't people swooning over it?
You've plastered it all over the place, and you feel you've shoved it in everyone's face so much that you're afraid they'll unfollow you.
The truth is, you're not being pushy enough.
This is your first book, so obviously you don't have much of a following yet. Trust me, I know that feeling. I'm still in the process of growing my following, and my first book isn't even published yet. Continue Reading…