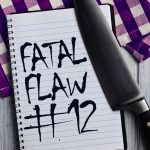 In today's post editor Linda Clare continues our look at Fatal Flaw #12: Flawed Writing Mechanics. We've taken a look at scene structure, and now we'll cover some of the smaller bits that jam up the gears of writing mechanics.
This week we're discussing how poor writing mechanics can lead to dull writing. Let's examine how repetitive pronoun/proper name use and other small mistakes can weaken fiction and what we can do to strengthen our work.
Get Out of the "I" Trap
In the Julia Roberts/Brad Pitt movie The Mexican, Roberts leans out a window, hurling all Pitt's possessions on him. He protests, "But I . . . I . . . "
She yells back. "I, I, I, I, I. It's always about you, Jerry." She then throws something else onto his head.
When writers overuse pronouns in their fiction, I think of this scene. Every writer faces the same challenge: how to communicate the story without boring readers by repeating pronouns at the beginning of sentences. Continue Reading…