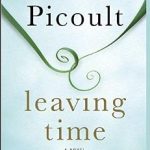 This week, in our examination of first pages of best-selling novels, we're taking a look at a best-selling novel by Jodi Picoult called Leaving Time (2015). While this novel is categorized as a thriller, it's really more Women's Fiction.
We're using my first-page checklist to go through each author's first page to see why and how it effectively draws the reader quickly into the story. While novels don't have to have every one of these checklist elements on the first page, usually the more they do have, the stronger the opening.
Jodi Picoult is one of my favorite authors. She has great characters, terrific themes and motifs, and usually gets right into action in her opening scenes, setting up her premise with characters in the middle of a difficult situation.
A terrific example of another powerful intro is found in My Sister's Keeper, another of Picoult's many runaway best sellers. As with Leaving Time, she starts off with a prologue (when you have time, read it by looking inside the book here on Amazon). And since prologues have been the topic of debate for years, before we look at this particular prologue, I want to talk a little about this structure. Continue Reading…