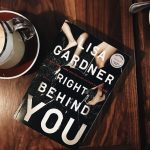 Show, don't tell. Yeah, we know that's the rule. But there are times when scenes can be masterfully told by the POV character. Sometimes a character is telling a story, relating a memory, and if done well, it's just as gripping as if the scene were played out in cinematic fashion.
I haven't seen much written on the "narrative" scene, but this is a technique that suspense writer Lisa Gardner excels at. While narrative scenes can be in first or third person, the most effective ones I've read are in first person. What makes for great narrative scenes is the character voice.
In fact, the lack of that voice would risk boring readers. To me, openings of many best sellers (which we've examined in many of the First Pages of Best Sellers series on this blog), which are mostly narrative, are plain boring. And that's because they lack a strong POV character voice.
We looked at some excerpts from Ron Hansen's novel The Assassination of Jesse James and noted how his writing style or author "voice" made the narrative riveting (at least to me).
These are two different things. You may have an overall writing style like Hansen's that infiltrates every page such that the only times you really get the "character voice" is in the dialogue. The storytelling voice can be consistent throughout a novel and set a specific tone or patina over the story. Hansen's book, as I noted, reads like a biography, and I believe his choice of this stylistic voice was deliberate, to give this effect. Continue Reading…