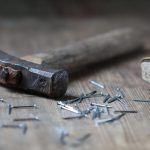 Today's guest post is by Lucy Johnson.
A lot has changed since the prehistoric days of cave carvings. Much like humans, the tools used by writers have evolved drastically over the years, from sharp stones, manganese, ochre, and charcoal to pen and paper, typewriters, and the latest MacBook Pro.
Nowadays, writers have so many tools to choose from it's difficult to know which ones are the best. Whether one chooses to write with a ballpoint pen or a fountain pen is subjective, and the same thing applies to online writing tools. Nevertheless, I've endeavored to provide you with a list of the most reputable technology that has been tried and tested by professional writers. Why not give them a try and let me know what you think?
Word Processors for Writers
We're not limited to the software that comes ready-installed on our computers anymore. There are plenty of creative and flexible word processors out there that are tailored specifically to the needs of writers. Forget Microsoft Word and Pages—here are two of the best word processors for writers: Continue Reading…