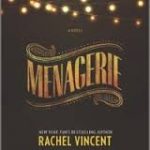 Mangerie by Rachel Vincent is a novel that fits into a number of genres: contemporary fantasy, magical realism, romance. It features a fascinating premise: a woman who goes to see a carnival that's come to town discovers a fierce, sharp-clawed creature lurking just beneath her human veneer. Captured and put on exhibition, Delilah is stripped of her worldly possessions, including her own name, as she's forced to "perform" in town after town.
As we've been doing every Wednesday since the New Year rushed in, let's look at this first page of this novel by best-selling author Vincent and see how it measures up to my first-page checklist. 
Note that first pages carry a heavy burden in a novel. It's the make-or-break page for the reader. Many people won't read past the first page if it fails to engage their interest. So writers need to pay huge attention to the first page—maybe not so much at the first-draft stage, but at some point before that novel is submitted to agents or published.
First pages need to be tight, with concise description, and jump right into dynamic action and hint of conflict. Every word counts, so excess verbiage and unimportant movement and speech must be eliminated. Continue Reading…