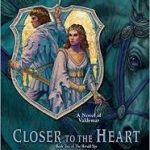 I couldn't resist including one of my favorite fantasy author's novels. I've read most of Mercedes Lackey's books, as have both my daughters. While they were teenagers, I think we passed her novels around the way we passed the chips and salsa. She is a master at creating believable fantasy worlds, and her world of Valdemar long stays in my mind, decades after reading dozens of her novels those many years ago.
Lackey has a very distinct, simple storytelling style, and does a great job at getting into character.  I thought Closer to the Heart would be a nice first-page example from this prolific author.
So let's jump in, and then we'll use my first-page checklist to examine what elements she's nailed on this first page.
Note this is book 2 in one of her (many) series, and as we discussed in last week's post, it's important in a series to ensure new readers won't have trouble getting into the story, as well as avoid too much "catching up" and telling what's happened before the present action of the new installment. Continue Reading…