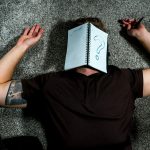 Today's guest post is by Michelle Boyd.
It's early. The apartment is quiet. My calendar's clear and my phone's on Do Not Disturb. I've got all the time in the world to write … but I don't want to.
It doesn't matter that the conditions are perfect, or that I've been looking forward to this quiet time for days. The fact is, I'm dreaming of my winter garden. I'm busy planning holiday menus. And there's a knitting project calling to me from the comfy chair in my living room.
It all adds up to the same old thing: I want the writing to be done. But I don't want to have to do it.
When this happens, I sometimes go down a dreadful path, berating and judging myself, wondering why I'm being so "lazy." I do this even though I know, from research, personal experience, and a decade coaching other writers that there are kinder, more effective strategies for getting ourselves to write when we don't want to.
The one I'd like to suggest? Lie. Continue Reading…