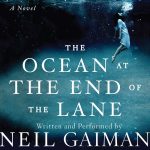 For this week's first-page examination, we're going to dive into my favorite book that I listened to last year—The Ocean at the End of the Lane by Neil Gaiman. What made this book extra special was hearing the author read his own story. Not only does he have a beautiful voice; he's an exceptional actor and brings richness to his story through his character portrayals.
Clearly an author would be the best person to read aloud his own book, knowing how and where to emphasize just the right words in the right way. But some authors, I imagine, are terrible narrators. Not so Neil Gaiman.
And, of course, all the marvelous acting skills an author may have won't do much to gloss over a lousy book. Thankfully, in Gaiman's case, his terrific oration is the sweet icing on a terrific cake of a story.
If asked, I wouldn't know what genre to call this. It tops the Amazon charts in Science-Fiction/Fantasy, Coming of Age, Literature/Genre Fiction, and Contemporary Fiction (that last one is puzzling to me).
So what's The Ocean at the End of the Lane about, and why do I rank it up there as one of the top ten novels I've ever read in my life?
Where to start? I could write an entire book on why this novel is so gorgeous. The writing itself, the characters, the story idea—it's all stunning. It speaks to deep universal themes in a poignant and strikingly honest and simple storytelling manner. Continue Reading…