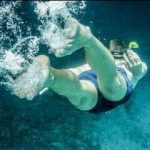 One of the most important decisions a writer has to make is regarding what POV she will use for her story or novel—not what character to write in, necessarily, but whether to write in first or third person, and if the latter, what variant of third person to use.
Sometimes the reason writers fall into the POV pit is the wrong choice of POV in the first place. They may have chosen to write their novel in first person, but their plot and premise require showing a lot of action involving other characters at times when they are not with the protagonist.
Genre may also influence this choice—for example, much YA today, especially dystopian, is in first person, present tense. This POV and tense provide the greatest intimacy with the main character, and that's what YA readers want.
Some stories are essentially one character's journey of deep insight and reaction to the world around her. Women's Fiction, for example, is often told in first-person POV, for a deeper sense of intimacy. Other stories need to show multiple characters' motivation, needs, and goals for the plot to work, and so usually the best option is multiple or shifting third-person POV. And yes—even despite all the warnings you might hear, you can use omniscient if you want to. It's your story, after all.
But more than genre should determine the choice of POV. The primary question is "Which POV choice will best tell this story?" Often that choice is third person. Continue Reading…