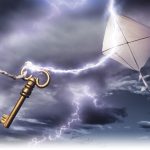 Today, I want to talk about brainstorming. I love that word. It succinctly describes what goes on in a writer's mind when in the throes of creating a novel.
I imagine we all spend large blocks of time stirring up the storm. Thinking up characters and scene ideas and twists and cool ways to bring out the themes we want to explore.
A mind is an amazing thing! But it can be hard to harness that storm of ideas and funnel them into something cohesive. I picture Ol' Ben out in the storm with his kite, the key dangling from the string, hoping lightning will zap the kite and travel the string to the key.
What then? Did he stick the key in a jar, hoping the electricity would be trapped like a firefly? I can't remember the story.
Can you really trap electricity in a jar? Maybe if you have a tight lid. And then what can you do with it? Well, a few smarties figured that out, and now I can turn on a switch and voila! Light. I'm grateful for electricity because it powers my computer. Continue Reading…