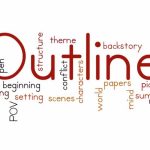 Today's guest post is by Harrison Demchick.
Are you a plotter or a pantser?
Pantser is a term that has come into vogue in the creative writing world over the last few years. When it comes to the process of writing, a pantser is one who flies by the seat of his pants, barreling his way to a completed draft with little planning and less revision. It's an approach well-suited to writers who otherwise find themselves so stuck seeking perfection that they never actually finish anything.
I've never been one to fly by the seat of my pants. I'm a plotter. I plan. But I've also never been one to advocate for only one approach to writing. We're all different writers with different writer brains. What works for one may not work for another, and as a writer you need to find what works best for you.
But fiction is complicated no matter how you approach it. And whether you're a plotter or a pantser, I think there's much to be gained by considering the value and application of a well-constructed outline. Continue Reading…