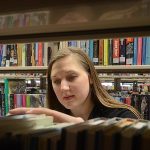 Today's guest post is by journalist and publishing consultant Porter Anderson:
At the Writer's Digest Annual Conference in New York this month, I had the pleasure of presenting some of the best news for independent authors this year: the roll-out of the SELF-e program from Library Journal and BiblioBoard.
SELF-e is an all-new discovery platform that authors can use to get their ebooks into the American library system. Here's how it works.
The SELF-e project is a client of my consultancy, Porter Anderson Media, and I'm delighted that C.S. Lakin has invited me to tell you about it here at her site. Thanks, Susanne.
To be clear, as a consultancy client, Library Journal pays me a retainer, not an affiliate fee. That means there's no incentive here for me to rack up lots of new authors for SELF-e. My role is simply to let writers know about this new opportunity. I want you to have the information you need to evaluate SELF-e and decide whether it's right for you. Continue Reading…