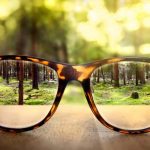 It's important for writers to convey the description of setting and characters through the POV character's eyes and emotions. But just as we don't take notice of every single detail in a room or about a person we encounter (I think our brains would explode!), our characters are going to notice particular things, and that's determined by their personality and mood at the moment.
For example, if a beautiful woman wearing provocative clothing walks into a diner, a young man is going to notice different things about her than, say, a five-year-old child would. He's going to think different things as well, and it's likely that, if you put ten men in that diner, you could have each think very different thoughts about that woman because of who he is. An old priest will think different thoughts than a twenty-something bad boy. The priest might notice how tarnished and unhappy the woman seems. The young man may only be checking out her curves and the hemline of her dress.
Scenes are going to feel deficient if description is dumped outside of POV.
But there are also other problems that can occur because of POV, and they stem from what happens when a writer forgets where his character is placed in his scene. Continue Reading…