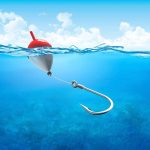 If you've been writing fiction awhile, you've probably heard the term "hook." What is a hook all about anyway?
It's a line that snags your reader and pulls them into the story. Often someone flipping through your book or looking at the first page online at Amazon.com will just read the first few lines.
Having a great opening line to your story is important. Some readers (including agents and publishers) won't read more than the first paragraph of a novel if the "hook" isn't catching them.
In a workshop I took years ago with literary agent Donald Maass, we all shared first lines and got feedback on the hook. It turned out a great hook is harder than it looks. Maass noted that sometime the hook will entail the whole first paragraph, with a strong, engaging line acting like an exclamation mark to drive home the opening thought.
That's why it's a good thing to spend time thinking about the opening to your story and honing that hook. Continue Reading…