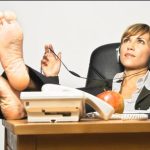 Procrastination is often a symptom of perfectionism. Perfectionists, believing they can never complete a task perfectly, put it off as long as possible.
If a writer doesn't attempt to finish her project, she can't fail. She won't be ridiculed or get bad reviews that will break her heart. The greater the fear of criticism, the more she will procrastinate.
Some people think procrastinators are plain lazy. They're making excuses not to write because writing is hard. Well, many of us have moments when we feel that way.
I talked about this as well, in previous posts. We stare at the computer screen, and out of the corner of our eye, we notice the floor is dirty. We jump up and grab the mop, telling ourselves we won't be able to concentrate on writing if the floor is dirty. Continue Reading…