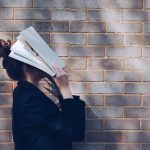 Today's guest post is by Rafal Reyzer.
I learned English all by myself. Long before I dreamed of living in the US, India, Turkey, Spain, or Belgium, I took my first steps in Poland and knew nothing of the language until I was three or four years old, when I learned my first few words in kindergarten.
I was hooked on language from the start. My mom was an English teacher, so you could speculate that it runs in the family, but, in fact, I only received a single lesson from her because I always preferred to learn on my own.
At first, it was unconscious. I picked up words from video games, schoolwork, and '90s movies. Then it was more intentional. I passed the tests, got the certificates, learned thousands of words with flashcards, and read or listened to over five hundred books in English. At some point, I even worked as an English teacher in Madrid. This was all a part of the process that has led me to making writing my primary occupation.
Over the years, I fell in and out of love with language. As you know, this passion needs occasional rekindling, so, if you're in a minor creative slump or just need a bit of inspiration, let me offer a couple of ways to get back on track. Continue Reading…