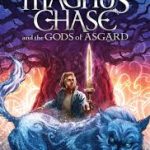 For our final post that looks at best-seller first pages, we're going to take a look at one of Rick Riordan's Middle Grade novels. Riordan's novels are hugely popular, playing off mythology. His new series, starting with The Sword of Summer, delves into Norse legends. I know some of you are going to be sad that I'm stopping this series, but I may come back to this later in the year.
I find the cover and title page confusing, because "Magnus Chase and the Gods of Asgard" are in huge letters, implying this is the novel's title. But "The Sword of Summer" is in smaller lettering at the bottom as well as on the header inside the book. The large phrase seems to be the series title.
Riordan's stories are fun, effervescent romps with lots of heroes and action and humor. Just the right recipe for young readers looking for escape from math homework.
We looked at literary best sellers that require readers to basically suffer and work hard to enjoy the story, as if that gives the author Brownie points. Continue Reading…