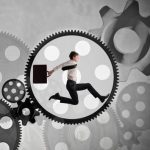 Today's guest post is by Rob Blair.
Thank the Gods of Writing that I'm no longer a full-time freelancer.
Those six years of writing to pay the bills very nearly killed my passion for the craft. What's more, my productivity on creative projects came to a dead halt. The last thing I wanted to do after a stressful day of writing was write some more.
Still, despite all the harm those years did to my writing life, they also helped me become more productive and effective. My current creative output—about twenty-five pages a week on my main novel project—is far higher than it was prior to my freelance experience.
I'd like to share five of the most valuable lessons I learned during my freelance career that I believe will help you be more productive in your novel writing. Continue Reading…